Send your fishing exploits to Ron Schmidt.
Please include Pictures, if possible.
Mark Rosen 7-16-2018 (pictures below)
I fished 4 days this week seas were nice and flat but the weed was spread out everywhere. Typically weed doesn't affect bottom fishing just the trolling trips but this week it was the worst I ever saw and even made bottom fishing a challenge. Water temperatures are also somewhat lower this year then typically we only had 81 degree water this time of year we are usually 85 degrees sometimes warmer. We were able to catch an assortment of fish. We had lots trigger fish, lots of black sea bass a few that were legal size, vermilion snapper, lane snapper, mangrove snapper, red snapper, dolphin, a 56" barracuda, 4 very large sharks each around 9 feet, bonita.
Captain Mark 609 558 5858 Cell, website pslfishing.com    markrosen5858@gmail.com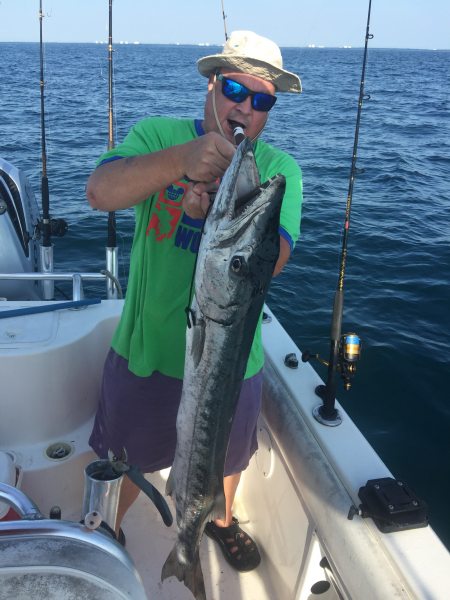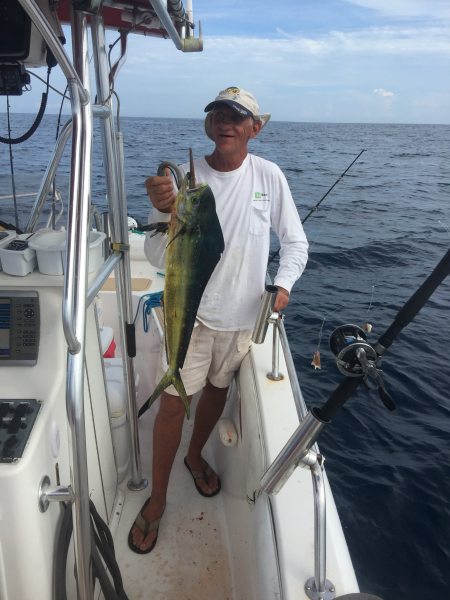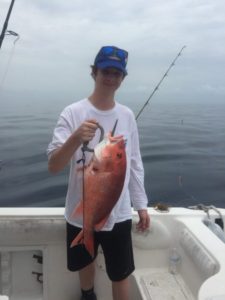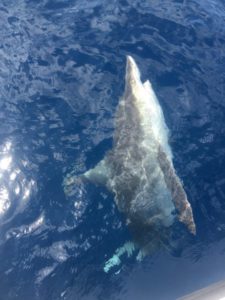 Charles Brantley 11 July 2018
Charles Brantley, Curtis Clark, and Ron Schmidt launched out of Sandsprit  ramp at 0-dark 30 and went out of the St Lucie Inlet.  Seas were nice with no choppy waves and just 3-4 foot slow roller. We found live bait about a mile out and caught a live-well full of look-down, blue runners, and small unidentified minnow type bait. We then went out about five miles and stayed in one spot. Clark caught a 3.5 foot shark, a keeper. Then Ron hooked up with a Mahi-Mahi. After a 30 minute fight, with the line being totally emptied from the spool, he finally got the 19 pound, 39″ to the fork, Mahi-Mahi to the Boat. A perfect gaff  by Charles brought the fish into the boat.
As we were returning to Sandsprit Ramp, we stopped just outside the Inlet at the right breakwater rock pile. Charles hooked up with a 5 foot+ Shark and finally got him next to the boat. Ron gaffed him, the gaff broke, the line broke, and the shark survived to another day. From his cuts and scars, that shark looked like he had several encounters with his bigger brothers.
We motored back to the ramp and concluded a great day with 10 pounds of filets, thanks to some excellent carving by Charles Brantley.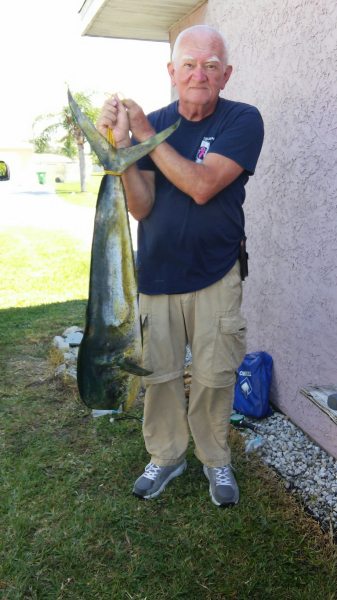 Paul Bender and Frank Gamber  5 July 2018
They went fishing at Frank's "secret location" with some live bait and Paul caught a 23.5 inch Largemouth Bass. Additionally, they caught several (4) Snook, all undersize, and put them back. If you are curious about Frank's " SECRET LOCATION", just ask him and he will take you there!!!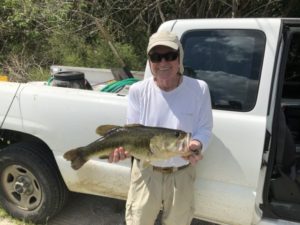 Kurt Hoyer, 24 May 2018
Lake Kissimmee Outing
According to my tabulations, here are the results:
Total of 15 bass caught.
Curtis Clark will be the official winner of the most bass with 10. 2 on Tuesday, 8 on Wed
Chet Kitchen will be the winner with the biggest fish of 20″, weight  approx 4#.
There will be a 50 dollar award for each category. Also a special award for the biggest non-bass.
James Watson caught a really nice catfish by the dam. Even though catfish were not considered tournament fish, I think a gift certificate would be in order.
Thanks to all who joined us at Grape Hammock. We are returning in October so mark your calendars for the 16th, 17th, and 18th.
No Pictures available (My Bad)
Mark Rosen  05-14-18  (pictures below)
I had charters trips 3 days in a row before the weather turned bad. The seas were flat. Great water clarity, maybe the best I have ever seen with at least 60 foot of depth visibility. There was very little current so we were able to fish with 4 once sinkers. I actually got a live line down with a 2 ounce sinker. The fishing was great as well. Tremendous variety of fish with some real nice ones. We caught black sea bass with a few being legal, several grouper with 2 being legal, a dolphin measuring 35", lots of trigger fish with several in the 19 to 21 inch range, lane snapper, mangrove snapper with one that was just over 20 " mutton snappers vermilion snapper, one tropical fish, several large sharks and of course lots of grunts. On one of the trips I had a 9 year old on his first time on the ocean. He caught a lot of fish including a nice size trigger fish.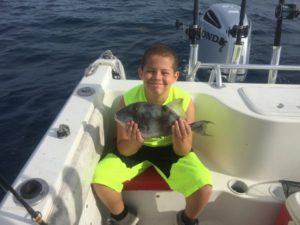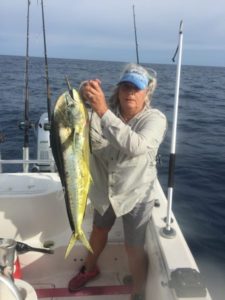 Mark Rosen  April 27, 2018, (No Picture)
Went out to the snapper hole waves were flat, water temp was 74 degrees with great clarity. I bought live bait on the way out and brought cut squid with me we caught a lot of black sea bass all were to short to keep as well as a bunch of grunts which we also used as cut bait caught.
We had 2 live bait on the top one on a float and 2 live baits on the bottom plus each angler had a bottom fishing rig.
We caught some nice lane snappers and a real nice 25" mutton snapper. We also brought home a nice trigger fish at 16". We caught and released several red snapper. The biggest fish of the day was an 8 foot shark which was released as well.
TONY WELDER 4/26/18
My Neighbor and I decided to get out of the house and go fishing. Went to Normandy beach around 10:30 Waves were high but did not bother fishing. Started catching whiting a few at a time. Crabs were taking the baits. I was using a 9 ft. pole with a chicken rig and small circle hooks and Ron was using a very small light pole with a little hook and sliding sinker. The tide was going out and fishing was slow till the tide turned around than the fish started really biting. Ron was catching most of them than so I switched to a lighter pole and smaller hook. We were catching them is the first trough. Went home at 2:00 with over 20 fish ( Whitting and grunts. Had over 4lbs of fillets.
Mark Rosen 04/21/2018 (Pictures below)
I took a father and his 2 sons out to the snapper hole. Seas were 2 to 3 foot and close so the trip out was a little bouncy, as the day went on they improved and turned into a real nice day. Water temperature was 74 degrees and clarity great 3o feet of visibility. Winds were out of the north there was a pretty strong current as well. We were using cut squid and cut grunt for bait. We hit 8 different spots each one had a few fish on them. By the end of the day we had a real nice sea bass and several trigger fish in the cooler the boys also each caught a nice red snapper which I was able to vent and release.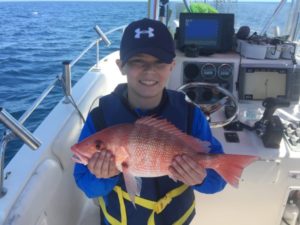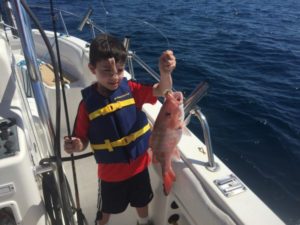 Mark Rosen 4/13/2018 (Pictures below)
The seas were too rough to fish the ocean so I offered them a river trip. We got there early so we could buy live bait. We fished the turn basin, a commercial port 15 to 25 feet of water, and got some nice jacks but nothing we could put in the cooler. From there I ran toward the inlet and fished between the jetties, not even a nibble, just lots of weed. Next we ran north up the river and fished the grass flats, nothing just more weed. We still had live bait and some time left, so we fished an area right next to the boat ramp. I've seen some snook caught there in the past. We put the live bait out and in 15 minutes had 2 snook. One snook was 27" and was released, the other was just over 28" in the slot. So we ran all over the place and caught the fish right where we put the boat in the water.
 
Tony Welder 04/02/18
(No Pictures)
Apr. 2 went out at 8 in the morning out of port st Lucie and headed out to 8 mile reef waves were higher than predicted. More large rollers that were over 4 ft. Put the trolling rigs out. Seen lots of boats and headed to that area which was Texas reef. over 29 boats in that area. Trolled around them thru the center. all around, did not see anyone caching any thing so pulled the rigs and went to 6 mile reef. Marked fish in 85 feet of water. Caught lots of lane snappers, vermillian snappers, sea bass, trigger fish and grouper which were out of season. By 12 I called It a day, cause this is the first time I got woosey on this coast. Guess captains are not immune to seasickness. Good day to get out of the house.
Curtis Clark, 03-23-18 (No Pictures)
And now a freshwater fishing report…. Charlie Brantley, Dave Brickey, a friend of his Darby, and I went to a small retention pond off Becker this morning to catch some bass for our kid's fishing tourney. After a couple of hours we caught 13 bass, all in the 1/2 – 3/4 lb range with one in the 2 lb. range. Charlie continued on to hook up with Frank Gamber and Kurt Hoyer to try their luck at a pond by Walmart on Route 1.
I, on the hand, just got a newly used canoe that I wanted to take the wifey out on its maiden voyage. We went to O.L. Peacock around 1pm, with a light breeze and absolutely beautiful weather. On the first cast, I landed a 23″ bass ( had tape measure) in the 5 lb. range ( no scale but anglers never lie…LOL). After cruising the lake getting used to the new toy, with a 45 lb thrust Minn Kota, and Humminbird fish finder that came with the canoe, we landed a total of 6, all in the 1-2lb range, with Claire getting her first ever large mouth bass! All were caught and released to catch again as is O.L Peacock's rules!
Life is good.
Curtis
Ken Broseman (03-19-18) No pictures.
WENT TO BLUE HERON DRIVE STARTED AT 10:45 WITH A SLIGHT WEST BREEZE  BEAUTIFUL CLEAN BLUE WATER WITH NO CURRENT AND OUT GOING TIDE. HAD AT LEAST 10 FISHING PEOPLE ON BOTH SIDES THAT WERE WELL SPREAD OUT. I SAW 3 SPINNER SHARKS ON DIFFERENT OCCASIONS DOING THEIR AIR BORNE TRICKS.      USED 2 RODS WITH 1 AND THE OTHER 2 OZ. OF WEIGHT.HAD DEAD SHRIMP THAT WERE NEVER FROZEN AND FISHBITES AND CONSTANTLY LOST MY SHRIMP UNTIL I THREADED THEM ON USING ELASTIC THREAD AND THAT WAS WHEN I FINALLY HOOKED SOME. LOST A VERY LARGE FISH , PROBABY A SHARK THAT MADE MY REEL SING SO I TIGHTENED THE DRAG JUST A BIT AND IT BEANT MY LITTLE SIZE 3 HOOK AND WAS GONE.
I RELEASED A 20 +- INCH LADY FISH THAT PUT ON QUITE A SHOW. KEPT A GULF KINGFISH, A SOUTHERN KINGFISH AND AN ATLANTIC CROAKER, ALL FEMALES LOADED WITH EGGS. PERHAPS THEY SHOULD BE RELASED THIS TIME OF YEAR.
FISHING NEXT TO ME WAS A COUPLE AND THE WOMAN CAUGHT A 19 INCH FLORIDA POMPANO MEASURED TO THE FORK THE NICEST LARGEST I HAVE SEEN AND THE MAN GOT 2 POMPANO. TOLD ME THEY WERE USING -"ELECTRIC CHICKEN FISHBITES"
I QUIT AT 1:45 AND WENT TO THE FORT PIERCE ELKS CLUB FOR ICE COLD YING LINGS AND AFTER 2:00 OCLICK FREE CHILE BY THE CUP FULL.
" its called fishing,catching, then refreshing refreshments"
Ken Broseman, Mar 16,2018 (no pictures)
 MEMBERS
                      THE FOLLOWING IDENTIFICATION OF FISH IS TO THE BEST OF MY POOR MEMORY.
       ON FRIDAY MORNING ,DRAGGED MY SELF OUT OF BED AT 0700 WITH AN OUTSIDE TEMP OF 43 DEGREES TO LEAVE AT 0800 AS A GUEST OF VINCE MASI AND CAPT. TOM ABOARD HIS 19 FOOT BOAT. TOM IS AN EXPERT AT WEATHER PREDICTION, ROAD TOWING AND LAUNCHING.HE READS THE WIND ,WAVE AND CURRENT ACTIONS AND COMMANDS THAT BOAT PERFECTLY OVER WAVES, SWELLS AND AROUND VESSELS AS THEY TRAVEL ABOUT. HE IS ALSO AN EXCELLENT FISHERMAN CONSTANTLY CASTING AND CATCHING SPANISH MACKERAL AFTER LOCATING THEM. HE SIMPLY DOE'S NOT KNOW HOW TO CONSUME FISH AND RELEASES ALL UNLESS WANTED BY HIS GUESTS.
                  WE ALL WORE MEDIUM  JACKETS BUT REMOVED THEM AROUND 9:15 AS THE SUN WARMED THE AIR UP WITH ONLY A SLIGHT BREEZE. WE CAUGHT MULTIPLE SPECIES OF FISH KEEPING MANY GOOD SIZED BANDTAIL PINFISH,LANE SNAPPER AND 3 NICE SPANISH MACKERAL.RELEASED WERE SMALLER SPANISH MACKERAL 2 DIFFERENT COLORS OF PARROTFISH,BLUE RUNNERS, BLUEFISH WITH ME CATCHING THE FEWEST OF ALL THE FISH
ALSO RELEASED WAS A GUAQUECHE (1ST ONE I EVER SAW) THAT RESEMBLES A BARRACUDA WITHOUT THE DARK MARKINGS.
             CAPT TOM USING A 6/0 CIRCLE HOOK INSERTED INTO THE BACK OF A LARGE ATLANTIC BONITA HOOKED A VERY LARGE FISH THAT HAD HIS REEL SCREAMING AND THEN HIS 60 LB LEADER SNAPPED ,SHORTLY BEFOR  I HAD SEEN A HUGH SPLASH FURTHER OUT BUT MISSED SEEING THE FISH BREAK WATER. TOM REMARKED THAT HE HAD HIS WINDSHIELD MOUNTED CAMERa ON AND WOULD LATER REPORT THE I D OF THE FISH.
Kurt Hoyer 2-16-2018 Picture Below
To those that attended todays trip on the Lady Stuart, WOW. we had good representation with a total of nine members. The best part of today's adventure was that we all caught fish and a lot of them. Snappers, croakers, triggers, lots of blue runners, sea bass, and quite a few groupers.
The fish that won the pool was a nice trigger fish. Joe Startare had a close second with his trigger. The fishers completely filled  one large fish box.
Ken Broseman   1/18/2018
I HAVE BEEN FISHING SINCE 5:40 A.M.OVER HERE AT THE BOTANICAL GARDENS.  THE SUN JUST WARMED THE TEMP UP TO 35 DEGREES SO I TOOK MY SHIRT OFF. WISH I HAD WORN LONG PANTS.
THERE IS AN ALLIGATOR BUILDING A BONFIRE ACROSS THE RIVER. I SAW AN OSPREY THAT SMASHED HIS HEAD ON THE ICE AND A RIVER RAT USING SNOWSHOES. ALSO A FIELD MOUSE WITH A MARRYWANDA CIGARETTE AND A SNAKE ROLLING DOWN THE HILL IN A FROZEN LOOP .
I AM WARMING MY HANDS BY HOLDING ON TO A PACKAGE OF FROZEN SHRIMP.
Ken Broseman   TUES.JAN.16.2018
DUMBER THAN DUMB CONVINCED 4 OTHERS TO GO SURF FISHING AT AVALON PARK. STARTED FISHING AT 0815 .WEATHER WAS NICE
WITH CRASHING 5 FOOT WAVES FURTHER OUT AND HITTING THE BEACH EVERY 3- SECONDS.USED FISH BITES, CLAM. PIECES OF SQUID AND FROZEN SHRIMP, ALL TO NO AVAIL. THERE WAS A STRONG SOUTHERN HEADING CURRENT AND 5 OZ. OF WEIGHT WOULD NOT HOLD WHICH WAS WAY TOO HEAVY FOR MY LTE WEIGHT RODS. TEMP. AND WIND WERE NOT BAD AND I TOOK MY JACKET OFF PROBABLY DUE TO THE EFFORT IT TOOK TO WIND IN THE WEEDS THAT WERE LIKE VINES. AFTER 34 MINUTES WE LEFT.NOT A BITE.
THREE OF US WENT TO THE F.P. JETTY PARK NORTH AND FISHED IN THE RIVER OPPOSITE THE SOUTH JETTY PARKING LOT ON THE NORTH SIDE, WATER WAS AT SLACK TIDE NO WIND AT ALL SO WE REMOVED OUR SHIRTS. SOON THE TIDE STARTED GOING OUT AND EVERY CAST BROUGHT IN PLASTIC WRAPPINGS OF MANY COLORS AND TANGLED SEA WEED. MY CONCLUSION WAS THAT THE RIVER MUST BE BRING OUT GARBAGE DEPOSITED FROM ALL THE SEWERS FROM THE PAST HURRICANE. ????
AGAIN I HAD TO USE ONLY ONE ROD AS I CURSED THAT DAMNED  BRAIDED LINE FROM WHICH IT IS NEARLY IMPOSSIBLE TO REMOVE THE FINE BLACK WEED EVERY 5 FEET ENCLOSING ON THE BRAID.
AROUND EVERYONE FISHING THE SAND WAS NOW COVERED WITH PLASTIC AND GROSS LENGTHS OF LARGE AND SMALL WEEDS.
ALL THAT AND 6 PEOPLE , SOME WITH RODS AND KIDS PLUMPED THEIR (XXXXX) DOWN ON CHAIRS NOT 15 FEET TO MY WEST WHERE I HAD TO CAST DUE TO THE EAST CURRENT.
WE MADE (2) THE DECISION TO LEAVE AND GO TO THE F.P. ELKS AT NOON, TOO EARLY FOR FREE SOUP BUT WORTH THE MONEY. DANNY BOY DISCOVERED ON THE MENU HAMBURGER ON TWO PIECES OF FRENCH TOAST (YUCK!) . MAYBE AFTER SEVERAL YING LINGS BUT CERTAINLY NOT TO BEGIN WITH
Ron Schmidt 11/24/2017 (pictures below)
Went fishing on the Indian River with my son and grandson, using the gift certificate I won in the drawing at the "Fishing in Pink" event The Club sponsored. The gift certificate was for a Half-day charter trip with  Mark Nichols of D.O.A. Lures. We had a great time with Mark. You could not ask for a better guide to be with on the Indian River.  We caught Ladyfish and some healthy Jack Crevalle while drifting in a light wind.  You can tell by my grandson's smile who the winning fisherman was. If you ever have the chance to go fishing with Mark Nichols, don't turn it down