Send your fishing exploits to
Ron Schmidt.
Please include Pictures, if possible.
Mark Rosen  (1-609 558 5858) 11/28/19 Pictures below
I completed 2 trips the week both were at the artificial reef. The first trip was a short day we had 2 foot seas very clear water and a very gentle breeze we caught 28 Lane snapper up to 14" and 2 black drum in the slot. The Next day we went right back to the same area I have a Grandfather and his 9 year old Grandson on board. The weather was even better than the day before we have dead flat seas 78 degree water temp and crystal clear water. We limited out on lane snapper (30 fish) with fish up to 16" we released another dozen that were legal but small.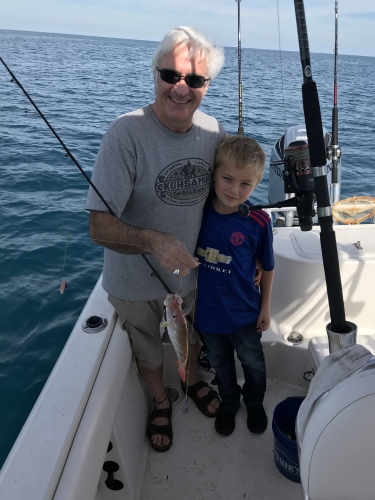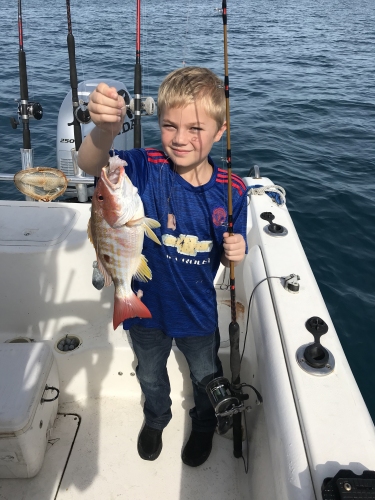 Mark Rosen 9/29/19 Pictures below
Went out to the snapper hole just to check things out seas were 2 to 3 mostly 3 sea surface temp was 82 degrees the water at the rock pile was very cloudy out at the snapper hole it was significantly clearer. The rock pile was barren after trying 3 spots with no luck we headed further offshore. I went to the south end of the snapper hole in 80 feet of water. We had a nice selection of fish. Lots of vermilion snapper 1 was legal, some real nice lane snapper, and 6 very small red snapper all vented and released, lots of trigger fish 2 were legal, and 1 sea bass that was 14" Ended up stopping early due to a weather system moving in almost beat it in got caught in some rain as we got to the inlet, not too bad.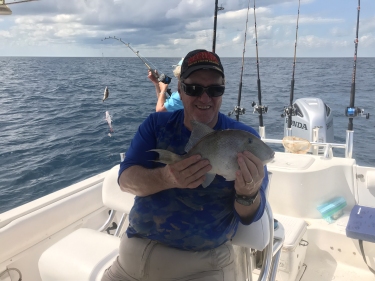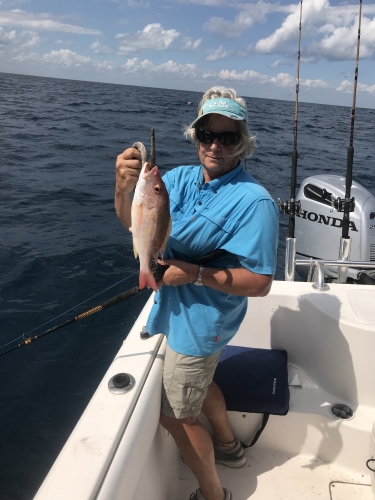 Tony Welder 07-31-19 Picture Below
Went out of psl inlet  went down to bull shark to catch bait dozens of boats no one catching got 2 nah some blues headed out to 328 ft of ocean.  Stopped here and there to bottom fish, no luck. Started trolling,  no luck. Finally, one guy was eating his lunch and he asked if anyone wanted a banana The other guy and I almost threw him overboard  His buddy asked him, don't you know it is bad luck to have a banana on board. Made him throw it in the ocean  Would you believe it, 10 minutes later we got a nice mahi-mahi.   Bottom fishing was not too, great ocean was cold on the bottom and slow current  Caught this fish at 328 ft at 10:30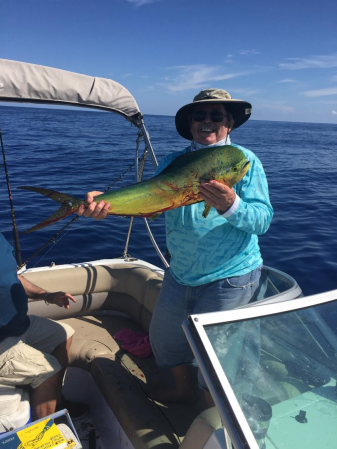 Captain Mark Rosen 07-30-19  Pictures below
I took a couple out to the snapper hole yesterday. They mentioned they would love to catch large barracudas so I stopped at the rock pile en route to the snapper hole They caught some lane snappers there as well as a large barracuda from there we went to the north end of the snapper hole where they caught Black sea bass, vermilion snapper and trigger fish. On the way home we stopped at the rock pile again and caught and released 2 more barracudas.
609 558 5858 Cell, website pslfishing.com, e-mail markrosen5858@gmail.com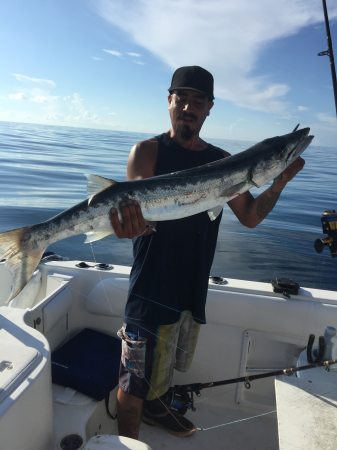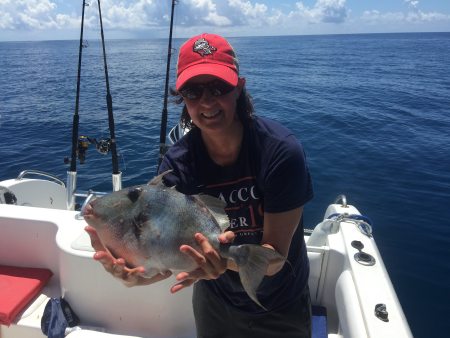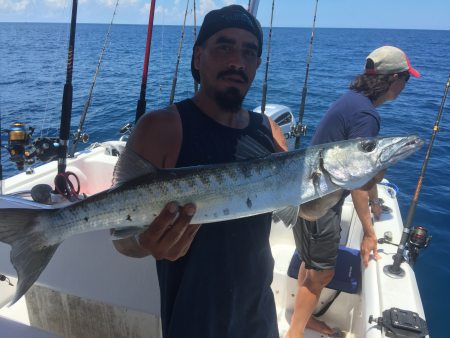 Jose Granda 

07/07/19 (Pictures Below)
Had a great time going out with my daughter last Wednesday. Beautiful day nice catch.
Caught 3 nice size mutton's, 2 Large yellow tails, porgys & trigger fish also in box, & my daughter proud of her nice size beautiful queen trigger, which we released back to the reef. Nice day overall 5 miles off Jupiter inlet.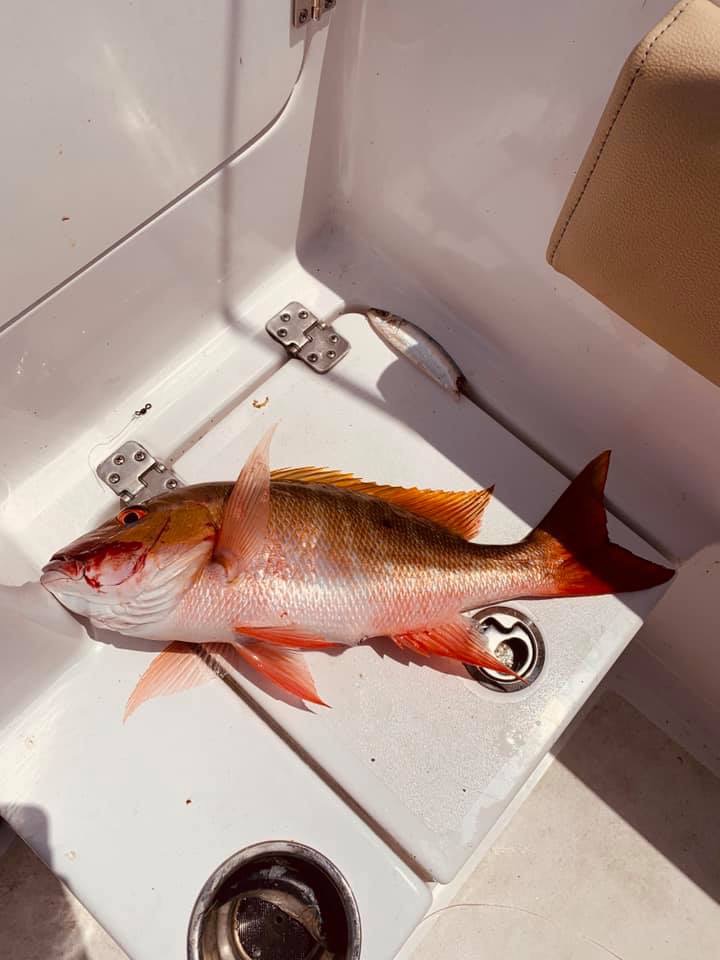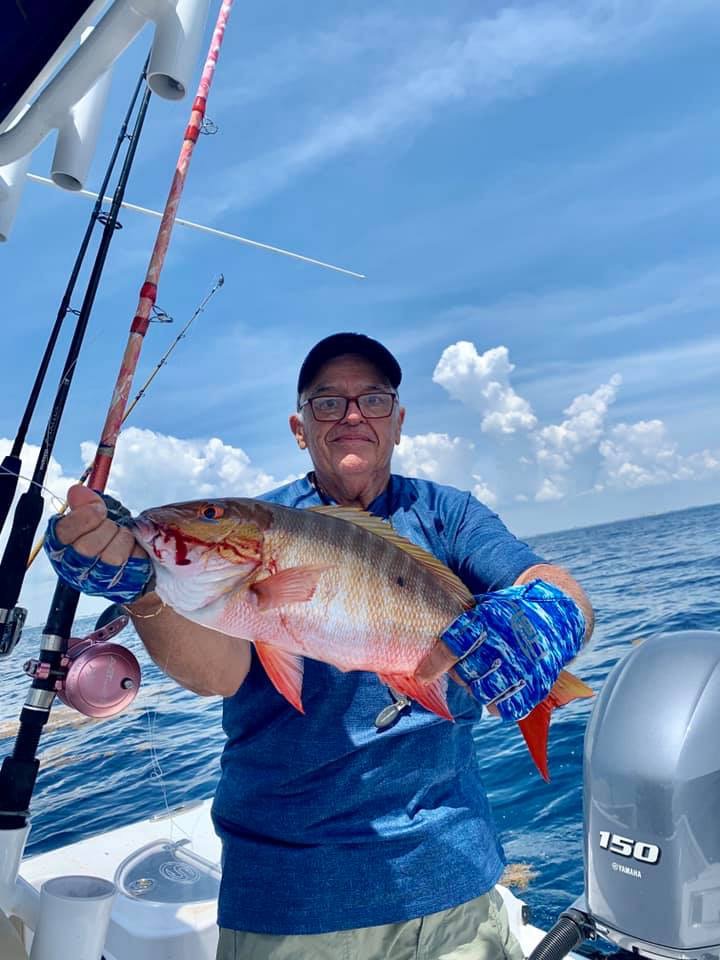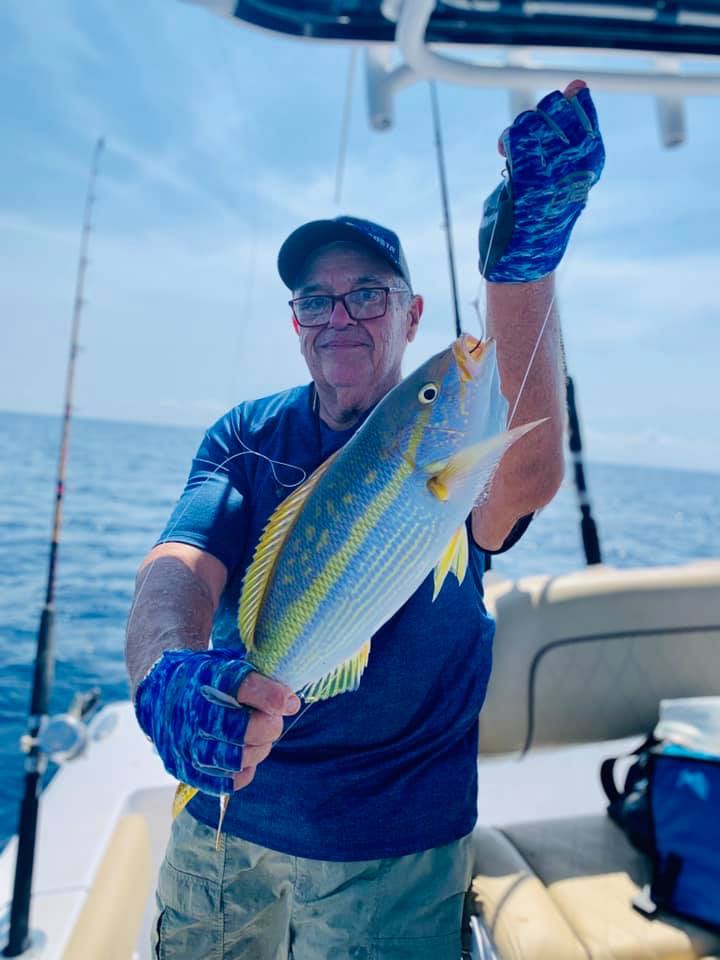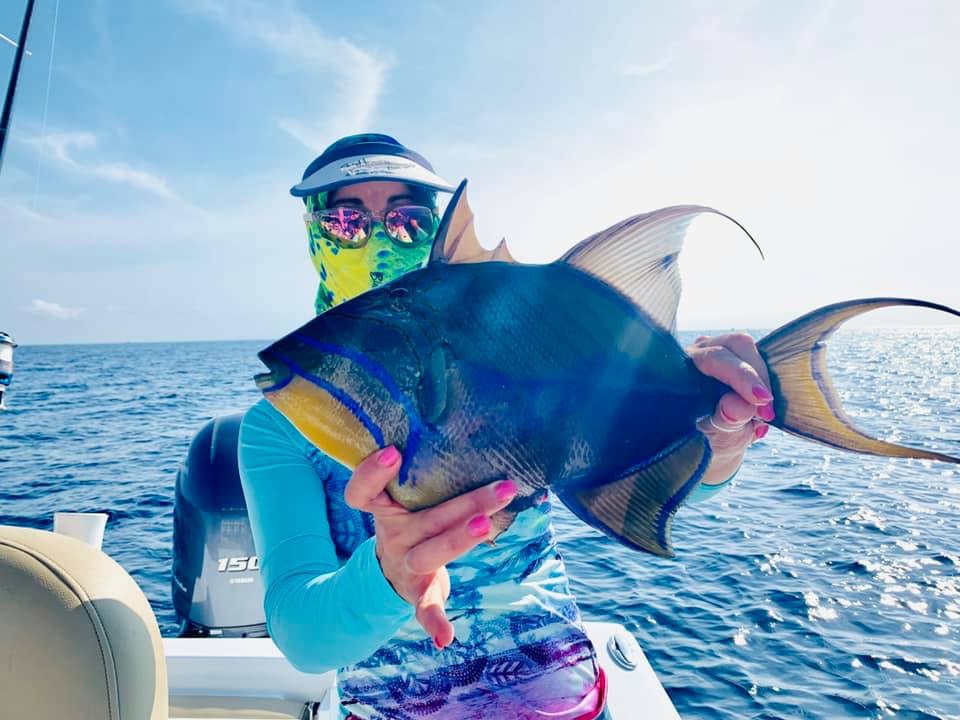 William Mousseau 8/13/18 Pictures Below
I thought i would give a little report on the surf fishing at Tiger shores. The surf was great there was a lot of bait fish and we did catch a few croakers and whiting. Some were too small but i did keep enough for dinner. We met some of the PSLanglers there norm, mike. This was mike's first time surf fishing but he did great catching the croakers  and a irish pompano and Tom caught a nice whiting. Ken gave you his report and he gave me his nice croaker  thanks ken     the weather was great and all had a good time.
Talk about bait fish I stopped at Dollman beach on the way home and as you can see there was a lot more bait fish there than we had at tiger shores. I could see big jacks all around them just eating them up. That was at 12:30 pm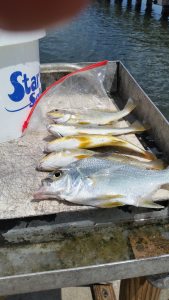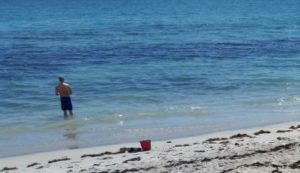 Mark Rosen (8/2/2018)   (pictures below)
I took a group out to club reef and artificial reef 6 miles out of the inlet. The water temperature was 78 digress with only 10 foot of visibility. There were a lot of lane snappers on the reef as well as a lot of barracuda we also caught 2 fluke a 17" and an 18".  1 of our lanes got bit off just short of the gills and another had bite marks 1 side penetrated the flesh right to the back bone We took the head that was left and put it out with a sleet leader and caught a barracuda that was 49' long. We netted the barracuda so we could return it to the water.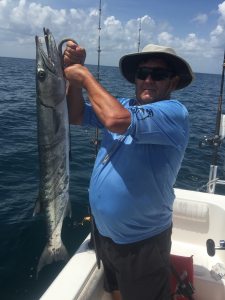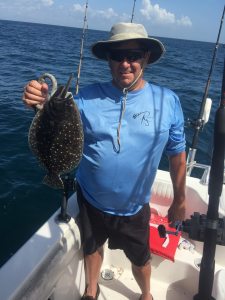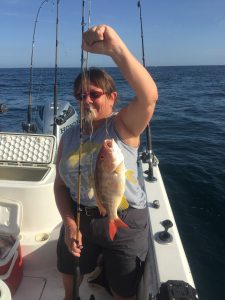 Mark Rosen 7-16-2018 (pictures below)
I fished 4 days this week seas were nice and flat but the weed was spread out everywhere. Typically weed doesn't affect bottom fishing just the trolling trips but this week it was the worst I ever saw and even made bottom fishing a challenge. Water temperatures are also somewhat lower this year then typically we only had 81 degree water this time of year we are usually 85 degrees sometimes warmer. We were able to catch an assortment of fish. We had lots trigger fish, lots of black sea bass a few that were legal size, vermilion snapper, lane snapper, mangrove snapper, red snapper, dolphin, a 56" barracuda, 4 very large sharks each around 9 feet, bonita.
Captain Mark 609 558 5858 Cell, website pslfishing.com    markrosen5858@gmail.com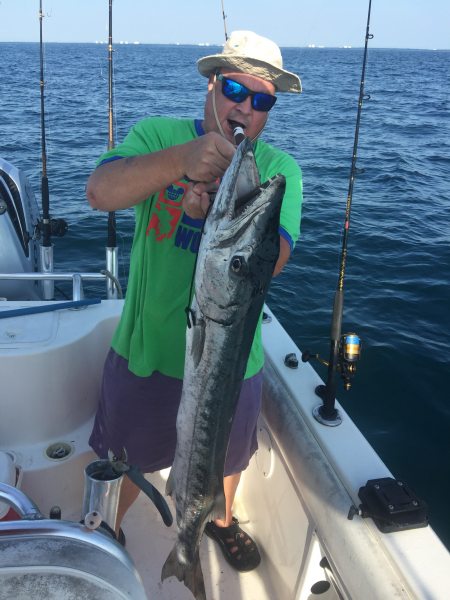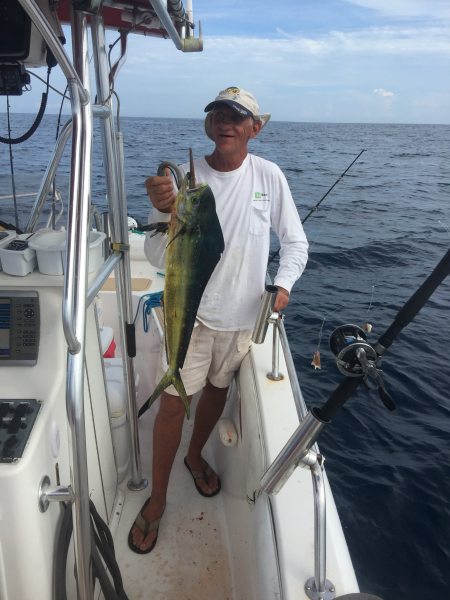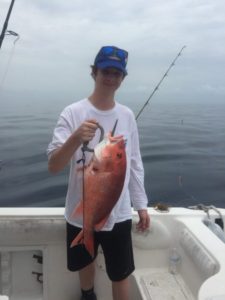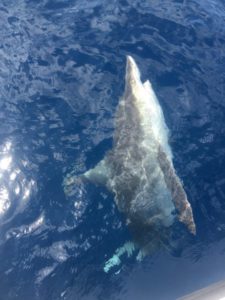 Charles Brantley 11 July 2018
Charles Brantley, Curtis Clark, and Ron Schmidt launched out of Sandsprit  ramp at 0-dark 30 and went out of the St Lucie Inlet.  Seas were nice with no choppy waves and just 3-4 foot slow roller. We found live bait about a mile out and caught a live-well full of look-down, blue runners, and small unidentified minnow type bait. We then went out about five miles and stayed in one spot. Clark caught a 3.5 foot shark, a keeper. Then Ron hooked up with a Mahi-Mahi. After a 30 minute fight, with the line being totally emptied from the spool, he finally got the 19 pound, 39″ to the fork, Mahi-Mahi to the Boat. A perfect gaff  by Charles brought the fish into the boat.
As we were returning to Sandsprit Ramp, we stopped just outside the Inlet at the right breakwater rock pile. Charles hooked up with a 5 foot+ Shark and finally got him next to the boat. Ron gaffed him, the gaff broke, the line broke, and the shark survived to another day. From his cuts and scars, that shark looked like he had several encounters with his bigger brothers.
We motored back to the ramp and concluded a great day with 10 pounds of filets, thanks to some excellent carving by Charles Brantley.