This page is intended to let our members invite other members to go fishing on the member's boat and what rules and requirements are attached to the offer. A brief description and contact points (Phone # and E-Mail address) are included. Contact the member if you have any questions. The listings are in no particular, just  the order in which they were received.
An Invitation to go Fishing!
Jim Garlans has been a member of the club for over two years. He owns a Sea Fox 226 Commander, launched in 2015, christened: Redcatcher. Photos below.
Brian Epperson and I have begun going offshore every Wednesday. I would like to invite  anyone from the club to join us. My only requirement is that you have a basic knowledge of fishing or failing that, don't get seasick. I can take up to 4 persons per trip, depending on their physical size. Redcatcher is moored at Anchor's Aweigh Marina at Taylor Creek in Fort Pierce. Redcatcher is normally available by 08h30.  We fish out of the Fort Pierce Inlet. If seas are > 2 ft we fish the inlet or the Indian River.  We fish, as Poseidon dictates.🐬🐬
Cost to join us: covering the cost of my breakfast or lunch, if time permits, when we return, or don't leave port. I do not drink alcoholic beverages. I normally have enough rods and tackle for everyone. My only specific requirement is that anyone on board wears an automatic inflatable PFD. I have several spares on board.
Redcatcher is equipped with an up-to-date registered EPIRB, the boat is registered with the US government, MMSI registration, and DCS on my VHF radio and chartplotter-fishfinder.
I am open to adding other week days to my schedule, which depends on who wants to fish. Just reply to my email address jimgarlans@snet.net or 772-871-8002.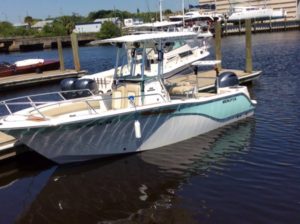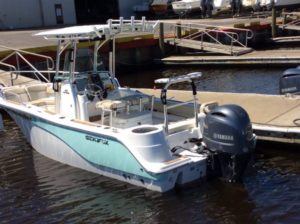 <><><><><><><><><><><><><><><><><><><><><><><><><><>
"Dr. G" Arlen Gastineau
407-360-9802
agastineau1@cfl.rr.com
I live in Orlando full time but have a place in Hobe Sound where I keep my boat. I try to come down as many weekends as I can depending on marine forecast. I get about 2mpg and split the gas and bait by all on board including me! I am glad to have company.
My boat is a 27'4″ Cobia Open fisherman with twin 225 Yamaha 4 stroke engines. I have about 16 rods and reels but we have room for anyone bringing their own gear. I keep the boat at my place, 7698 SE Swan Ave, Hobe Sound, FL 33455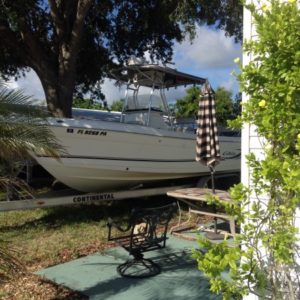 <><><><><><><><><><><><><><><><><><><><><><><><><><>
Kenny Williams
Cell # 772 631 6243
cynke@bellsouth.net
I'm a new member. I'm looking for fishing buddies. I have a 22' Hydrasport on a trailer and all gear to fish inshore offshore or freshwater. I live in Stuart. I am retired. Email cynke@bellsouth.net cell 772 631 6243. Picture will be coming soon.
<><><><><><><><><><><><><><><><><><><><><><><><><><>
If you want to invite others to fish with you on your Boat, e-mail me the information to put on this Page:     Ron Schmidt
Go to Top of Page for Menu     Go to Club Activities Page    Go to Home Page